More than 50 local artists of all ages and abilities have created mini masterpieces on a plain white umbrella. Visit Downtown Clermont businesses in July to see all the colorful umbrella designs while you snack, shop, sip and stroll your way through our more than 80 different shops and restaurants.
The Umbrella Art Project artists tell a little about themselves and what inspired their design.
#1: Cole Podliski (age 15) (formerly at Sunshine Book Co.)
Cole has autism and attend Abels Academy.  He embraces who he is. He loves to sketch, draw and paint and has since he was very little.  His family moved to Clermont from central Pennsylvania in 2013.  Cole loves it here and says Downtown Clermont reminds him of a Hallmark movie. The umbrella represents the beauty he finds and loves in Florida.
#2: Daryl Black (formerly at Cheeser's Palace Café)
Daryl, who was born and raised in central Florida, is a self-taught artist. He enjoys drawing comics, pop art, and combining subject matter to create new and interesting pieces. His favorite medium is Sharpie and digital art.
His inspiration for the design: "Since I am a local, native Floridian, I wanted to bring out some of the bright and colorful things we have in our area. Oranges, of course, have a long-standing history here, and if you are lucky enough, you may see a peacock or two that are majestic and beautiful.
What made me want to be a part of the Umbrella Art Project: As a local resident, I want to bring people's attention to our bustling Downtown area. We have so many new (and old) businesses that are worth checking out!
What I thought of the experience: It was very rewarding. An umbrella is not the easiest canvas to draw on, especially with permanent ink! However, I enjoyed the process and know that it is going to a great cause."
#3: Jess Belmont (formerly at Sud's Saloon)
This is Jess's second year as a contributor on the Umbrella Art Project.
She says "I think the Umbrella Art Project is such as cool way to help the community in so many different ways! It helps bring more art into the community and bring more business to local businesses."
#4: Addison French (age 10) (formerly at Clermont Cafe) 
Addison says "I love to do art I can't even remember when I started. I spend my summer at the beach, and I love to surf. I have two dogs and I love them both."
Addison said when thinking about an umbrella design, she thought of what an umbrella was made for.
She said she wanted to be part of the Umbrella Art Project because "it would be my first art piece I showed to the world. I loved it so much and it was fun to do something like that!"
#5: Eric Wise (formerly at Triangle Vinyl)
Eric (the Wise Knight) is a native of New Jersey who now lives in Clermont. An artist since the age of 8, his work has been featured in galleries & pop-up exhibits throughout Florida & magazines such as The Source and Orlando Weekly.
Eric says "My inspiration was Gene Kelly's dance sequence in the classic film "Singing In The Rain." I love Clermont's downtown and saw this as an opportunity to tap into its potential for artistic expression.
I think it was a wonderful and unique experience that I'm proud to be a part of and l'm looking forward to what's to come."
#6: Faye Gosselin (formerly at Hometown Accents)
Faye, age 83, says "I always was creative. I used to make my daughter's clothes, soft sculpture dolls and paint. Guess my daughter thinks I still got it."
Faye says of her inspiration for the umbrella's design: "I love flowers and sunflower covers the whole thing."
She said her daughter, local realtor Gigi Capria, asked her to participate in the Umbrella Art Project and that she hopes that others will as well.
#7: Lacey Satterfield (formerly at Dash Sports)
Lacey is originally from Colorado and has lived in central Florida since 2005. She loves gardening, bourbon and her 20-year-old son.
She described her design as "abstract art with flowers resembles organization with the excitement of growth and change."
Lacey says she wanted to be part of the Umbrella Art Project because "I love the city of Clermont. It's country feel with the idea of growth and a sense of community."
"I enjoyed the experience, such a great way to enrich the experience of artists and the downtown community. Thank you for the opportunity."
#8: Sarah Schlussel (formerly at South Lake Animal League)
Sarah shared this bio:
"Originally from California, my family moved here in 2008. I have taught science at the middle and high school levels for 27 years. I love nature and all animals, even the creepy ones. I enjoy painting in my spare time, especially in the summer.
The inspiration for the design was awareness of the beautiful and unique flora of Florida. I like to combine art, science, and education and my umbrella design reflects those passions coming together.
I wanted to be part of the Umbrella Art Project because I enjoy making art and this project provided an opportunity for my daughter and I to make art together.
The experience was awesome. My daughter and I had a fantastic time working on the umbrellas side by side. We don't see each other that much so it was a great bonding time for us."
#9: Lisa Harris (formerly at Los Reyes Mexican Grill)
Lisa is the president of the South Lake Art League and the chair of Clermont Main Street's Public Art subcommittee. She is also a founding member of Minneola Artworx, the group behind the U.S. 27 underpass/South Lake Trail mural project in Minneola. This is her second year as a contributor for the Umbrella Art Project.
Lisa says "My love for art started at age 8. I enjoy most forms of art. I have been involved in teaching children and adults art for more than 10 years. My passion for art just seems to keep growing each year. I enjoy seeing all people involved in art."
#10: Kaydence Hunt (age 11) (formerly at Yummi's Yogurt and Cafe)
Kaydence is an incoming 7th grader at Gray Middle School. She loves art, and her favorite medium to work with is clay. Her favorite colors are blue and green. She enjoys watching YouTube videos of toy makeovers.
Kaydence really likes rainbows and flowers and wanted to find a way to combine the two on her umbrella. She wanted to be a part of the Umbrella Art Project because she loves art and it sounded cool to be able to decorate an umbrella and have it displayed publicly.
She thought it was fun to be able to envision a design and create it on an umbrella. This was her first umbrella design, and she looks forward to doing it again!
#11: Suzanne Diaz (formerly at Ritter's Frozen Custard in the Galleria at SOMA)
Suzanne says "Looking at my blank umbrella, I was Inspired by "Singing in the Rain." It took me back in time to my childhood. I am a hospitality specialist at Orlando Health. I am a blessed daughter, wife, mother and a grandmother to awesome people.
"I am certain that art and music are a necessity in our lives, and I'm thankful that Clermont is moving towards bringing them to our city. I pray that painting will become a passion and a place of tranquility for all."
#12: Hannah Messenger (formerly at Gray Collective Bridal)
#13: Danielle Lazala (formerly at Sugar Mama's Candy Bar & Blushin' Bubbles)
Danielle is an Orlando-based abstract artist who loves working with fun and colorful patterns to spread positivity and mental health awareness through art.
She says "I love creating original wall art, murals, home decor, stationary goods, accessories and apparel. I use a lot of flowers in my art that represent the phrase "Keep Blooming" as a symbol to self-growth.
"My umbrella's design represents "my style" as an artist. The loose patterns represent "feeling free" and the flowers represent "self-growth."
"I love working and meeting other artists in the community. This experience has been great!"
#14: Emri, Aubree and Betsy Terrio (age 12) (formerly at Corelli's Pantry)
Triplets Emri, Aubree and Betsy moved to Florida about a year ago from New Orleans, a city where people regularly second line with decorated umbrellas. Their family loves soccer, food, art, the beach, and marine life.
On a recent trip to St. Petersburg, they saw a mural of an octopus and were inspired to recreate it on the umbrella.
Says their mom Brooke, "An opportunity to participate in a community art project seemed very cool and none of us have ever painted on an umbrella before!
We enjoyed the experience and challenge of painting on this type of object. We hope everyone enjoys our collaborative masterpiece!"
#15: Jen Bucheli (formerly at The Broom Tree)
Jen says, "I love to create art that evokes memories and nostalgia in people. I love Mid Century Modern style, the '50s, '60s, '70s, and '80s decades are the ones that most spark joy in my art.  I love color and home decor/design. I sell my art on my website Amayajadeandco.com on Etsy AmayaJadeandCo. and on multiple Print on Demand websites like Redbubble and Threadless. I've also had my designs on items in Hobby Lobby, Ross, World Market and on lines of fabric.
"I chose to paint the Citrus Tower on my umbrella because to me it really is an icon that represents Clermont and its history. I love to find the nostalgia in places and reminisce.  Road trips to Florida happened almost every year when I was a kid.
"I love to create and thought the Umbrella Art Project would be a fun way to be a part of the amazing changes and growth happening in the Clermont area.
"It was fun, but it is a lot harder to paint on an umbrella than I thought it would be!"
#16: Jessica Lightcap (formerly at Curl Up & Dye)
Jessica says "I'm a local artist that loves everything strange and unusual. My inspiration was the quote "the eyes tell more than words could ever say."
"I wanted to be included in this Umbrella Art Project because of community…. Art brings people together…
"I'm so thankful for this experience ,and I hope others will be enlightened by the art that they see through this."
#17: Ava Ciardi (age 12) (formerly at The Downtown Exchange)
Ava, who lives in Clermont, is a visual arts student at the Osceola County School for the Arts. Ava's inspiration for her umbrella design was fairies and forests, which she loves. Ava wanted to be a part of the Umbrella Art Project because It was fun and different. She says that working on the umbrella panels was challenging, but it was really enjoyable.
#18: Kathy Keith (formerly at Clermont City Hall)
Kathy says "I am a Nashville native and moved to Clermont in August 2021. I work in HR for a healthcare company and am currently finishing a program to earn my MBA with a concentration in healthcare management. I love the arts and over the years have learned to play various instruments, sung in choirs, performed in plays, taken each type of dance, and created art in different mediums. I love learning, growing, and experiencing everything life has to offer."
She said her inspiration for her umbrella design was traditional Japanese art.
She says "I love the Downtown Clermont area and appreciate when collaborative art projects are organized and displayed for the public.
"This is the first time I have painted an umbrella and painting on this type of material presents a challenge but it has been fun to experiment and make time for something creative."
#19: Mike Goodge (formerly at Pepe's Cantina) 
Mike is an artist and an art instructor who teaches online and in-person art classes of all ages under his business, Goodge Art Classes:  https://www.facebook.com/goodgeartclasses/
Mike's paintings have been exhibited at various art galleries in Toronto, Orlando and Winter Garden to name a few. For more on his art go to https://mgoodgegeo.wixsite.com/artist
Mike says he was inspired to create a kaleidoscope design of repeated patterns that would be eye catching, colorful and with a practical enough design to paint on the umbrella.
He says  "I love to paint with any chance I can get and to also to have the opportunity to display my art work for the public! I really enjoyed the process of painting the umbrella because it is a unique surface compared to painting on a flat canvas!"
#20: Jess Belmont (formerly at Suncreek Brewery)
This is Jess's second year as a contributor on the Umbrella Art Project and this is her second umbrella in this year's project.
She says "I think the Umbrella Art Project is such as cool way to help the community in so many different ways! It helps bring more art into the community an bring more business to local businesses."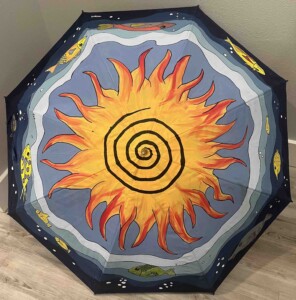 #21: Debra Khan at (formerly at The Florida Angler)
Debra describes herself as "a retired hippy who's lived in CO, ND, and AZ. I love all things sentient. I have a passion for adventure and curiosity. I have three children and one grandchild. My favorite dessert is the pazooki at BJs."
O her inspiration for the umbrella design, Debra said: "I love the ocean. It brings be peace.
"I'm an artist of my own brand. Art allows me to express my thoughts and connect with people."
She said knowing the Umbrella Art Project would help draw the community into local businesses created a fun motivation for the project.
#22: Samantha Hirata (formerly at Flag Coffee Corner)
A graduate of East Ridge High School, Samantha works as a server at Walt Disney World, but her passion is her pets and her art. She makes and sells digital art online in her spare time, while caring for a menagerie of pets.
The inspiration for the design was a depiction of the family's dogs. Samantha has four dogs of her own and she also depicted her mom's two dogs and her brother and sister-in-law's dog too. All of them are shown running after a ball, one of their favorite activities.
#23: Phyllis Walker (formerly at Bacchus Vino Etcetera)
This is Phyllis's second year participating in the Umbrella Art Project.
She says "I paint watercolors and acrylics. My favorite subject is painting pets in watercolors, concentrating on bringing the pet's personality to his/her face. I also enjoy painting buildings, houses and unusual signs.
The umbrella painting was fun but a real challenge for me."
#24: Carol Kilkeary (formerly at Encore Home Décor)
#25: Marie Dudeck Brown 
Marie is an artist who works mainly in watercolor, acrylic, mixed media and photography and who also enjoys crafting. Marie enjoys creating things newly and having a variety of mediums available in which to work.
Her inspiration for her design was 'Mandala,' the Sanskrit word that stands for 'circle'and which represent the wholeness of life.
Marie said she wanted to be a part of project because it was something she had never done before, and she wanted to try painting on an umbrella.
Of her thoughts on the experience, Marie says "Things didn't work out as I had imagined/planned, and yet I am pleased with the outcome. Definitely went with the flow and I am grateful for the experience."
#26: Joni Sue Thum (formerly at Crawford, Modica & Holt)
An artist and photographer, Joni grew up in Miami, attended chiropractic college in the Midwest, raised six sons, and is now grandmother to six and counting!
She says, "For this umbrella art I asked myself: "What is it that we want to see on rainy days?" It's blue skies and sunshine with a few fluffy white clouds!
"I wanted to be a part of the umbrella art project because it sounded like a fun, creative, and light-hearted thing to do.
"My inner child loved painting on such an unusual "canvas"! The bright colors make me feel joyful and playful."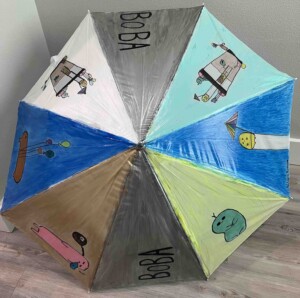 #27: Natalee Rozar (age 12) (formerly at Teamont Boba)
Natalee, who attends Minneola Charter, had this to say about her design:
"I chose to draw different Boba as my design for my umbrella. I feel my design is unique and fun. Art makes me happy and makes me forget abut everything going on in the world. I hope everyone enjoys my design."
#28: Neysha Osorio (formerly at The Orange Blossom Belle)
Neysha was born and raised in Puerto Rico. She says: "I've always been passionate about art and painting surrealism since high school. I decided to study a BA in Graphic Design and in 2020 finished my masters in Media Design. You can win my heart over with food, the beach, traveling conversations and a good cup of coffee.
"The inspiration for this umbrella design is summer, and I decided to call it "Summer Juices." The bright colors of fruits, the flavors and how it all comes together to cool us off on a warm summer day.
"A friend of mine posted this project on Facebook and I thought it would be a great experience to distract and challenge myself from the everyday routines.  It's also a way to prove to myself I can still paint and have fun in the process!
"I did not hesitate to enter this project and I absolutely loved the experience."
#29: Epiphany Wardlaw (age 11) (formerly at Twisted Sugar)
Epiphany loves drawing anime and abstract images. Her inspiration comes from all around her, including the outdoors, various Japanese, K-pop shows to vintage SciFi shows.
Epiphany's inspiration for this umbrella was our beautiful Florida weather. One minute it can be hot and sunny and the next a rainstorm will roll in and out in just a few minutes. Often the sun will be shining and raining at the same time.
Epiphany's family saw the announcement and loved the idea of participating with the community to bring more art projects to Clermont.
#30: Ryanne Diesman (age 18) (formerly at We Can Do It Realty in Clermont Office Suites)
Ryanne recently moved from Illinois to Clermont. She has been drawing, painting and has loved art since she was able to hold a pencil or paintbrush.
Ryanne says "I wanted to use all the colors to surround the two cute bunnies I painted. I was inspired by my bunnies."
Of the Umbrella Art Project, she said "We were thrilled to see this as an event in Clermont and wanted to add to the collection. We can't wait to walk around and see all of the different umbrellas. I had fun painting an umbrella for the first time ever in my life. Thanks for the opportunity!!!"
#31: Chloe Brayton (age 14) (formerly at Rustic Rags in Clermont Office Suites)
Chloe shared this about herself:
"I have been an artist for about three years. I began my love for art after reading a book called Warriors and wanted to draw out the characters I was reading about. My inspiration for my umbrella design is reality vs fantasy.
"I wanted to be a part of the Umbrella Art Project because painting on an umbrella seemed like so much fun! It was a lot of fun and challenging at the same time."
#32: Jane Soto (formerly at Clermont Brewing Co.)
#33: Todd Merrick (formerly at Comic Controllers)
Todd owns Sunshine Book Co. in Downtown Clermont with his wife, Beth.
This is their second year hosting an umbrella (see Stop #1), and Todd decided to create one as well this time.
#34: Riley Shaw (age 15) (formerly at Colourz for Nails & Hair)
Riley says, "I am a sophomore at ERHS, and love to draw and paint. Drawing helps express my thoughts and feelings without having to say much.
Pride month celebration was the inspiration for Riley's umbrella.
Riley says "I love to draw and paint and thought (the Umbrella Art Project) would be fun. It was hard to focus on one specific topic, but fun to be creative."
#35: Elainy J Ortega (age 16), Kaylee Paterson (age 18), Rachel Paterson (age 18) and Hayley Autrey (age 19) (formerly at The Southern on 8th)
Four friends were able to spend time having laughs and fun while creating their umbrella. "We were all able to express ourselves through our art and it was great to be able to share that with our friends. Even though it was a bit chaotic trying to paint on the same thing at the same time, it was still a blast."
Their inspiration is summed up as "These are the unseen treasures of God's creation. Hidden wonders of the wonderful world we have the privilege to live in. Seen or unseen, this is the work of God, the artist of artists. As His creation reflects His glory and worships Him, so we are also called to emulate His holiness. From the sky to the rocks, fire to the waters, and everything in between, the beauty and love of the Lord are reflected throughout His artistry.
"This project gave us the chance to express our creative side and stretch our minds. It was a chance to try something new and surprise even ourselves. The umbrella gave us a way to share with the world our thoughts and story through the making of beautiful art."
#36: Kathy Henderson (formerly at The Roasted Spirit)
#37: Savannah Rose Grandle (age 14) (formerly at Twisted Sugar)
#38: Dawn Mancuso (formerly at Twisted Sugar)
#39: Clermont Garden Club (formerly at Cheesers Palace Cafe)
#40: Noah (age 10) and Elijah Siple (age 7) at (formerly at Powell Studio Architecture)
#41: Kaylynn Alicia at Cheeser's Palace Café
#42: Juliana Green at 4 Oak Lane (in the Galleria at SOMA)
#43: Danee Damore at Powell Studio Architecture
#44: Phyre Kwong (age 17) (formerly at Parlour 3)
#45: Phyre Kwong (age 17) (formerly at Epic Cycle & Energy Lab Cafe)
#46: Ramona Kwong (formerly at The Tonsorium Men's Grooming Lounge by Juliet)
#47: Erin Dow (formerly at Shelly's Salon)
#48: Madison Winegard (formerly at Sunshine Book Co.)
#49: Alana Jones (age 16) (formerly at Shabby Chic)
#50: Marley Madden (age 8) at South Lake Art League
Marley is a third grade student at Lost Lake Elementary. She is also in Girl Scout Troop 9220. Her favorite color is blue and her favorite animals are tortoises and dogs.
Her inspiration for her umbrella was all the colors and puffy white clouds. She loves painting.
#51: Lisa Harris at Bacchus Vino Etcetera
#52: Alana Jones (age 16) at South Lake Art League